Comprehensive Master Plan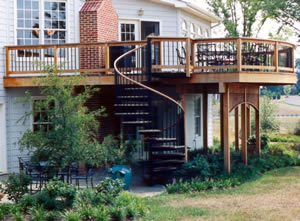 Create the dream environment surrounding your new home, addition or renovation with comprehensive plans for all aspects of your property and outdoor spaces.
Benefits
Your home is more than just the building you live in. It should be a complete integration of your home, outdoor rooms, and the entire property.
You only have one chance to do it right, so let JGL Design provide an integrated design that fulfills your long term vision, creates a sustainable site, and optimizes your investment in the property.
Projects
Grand Gardens in the City
Guilford, Maryland

Elegant outdoor rooms for all aspects of grand urban living.

Why You Live in the Woods
Hunt Valley, Maryland

With 7 levels, a 3 season's room and pr the woodlands and nestled in the trees there's a place for everything and everybody.

Urban Oasis Connects Old and New
Canton/Fells Point, Baltimore

Downtown townhouse courtyard for respite and entertaining with many rooms in a small space.

Grand Entry for Distinguished City Residence
Guilford, Maryland

Prominent entry and courtyards invite guests into the home and provide classic spaces for all facets of life.

Family Paradise for All Seasons
Ellicott City, Maryland

With a pool and spa, pool house, water fall and pond, multiple patios and gardens, and a sport court, why would you want to be anyplace else?

Prominence, Privacy and Play Integrated on a Suburban Hillside
Towson, Maryland

Outdoor places created for adult activities and children's play where no space existed before.

Views of the Countryside with Places to Enjoy Them
Sparks, Maryland

Move from your prominent place on the deck, down the spiral staircase, stopping to relax on the private stone patio before your stroll through the gardens to the woodlands and farmlands beyond.

Nestled in Nature
West Friendship, Maryland

The dining deck, outdoor kitchen, spa, patios, and stone stairways cascade down the hillside as they overlook the woodland valley.

Country Living with All of the Extras
Reisterstown, Maryland

The outdoor kitchen, bar and dining patio overlook the gardens, swimming pool, mill stone fountain, and sports court.

Luxury Resort and Sport Getaway in your Own Backyard
Towson, Maryland

Outdoor opportunities for the active participant, spectator, or those just enjoying the party with all of the amenities and luxuries of a vacation resort.