New Outdoor Spaces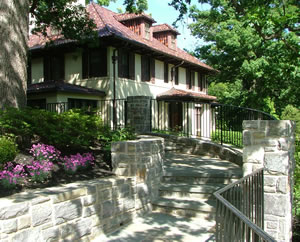 Create or renovate your outdoor living spaces (swimming pool, outdoor kitchen, pool house, patios, decks, walkways, walls, etc.) and specialty gardens and landscape structures.
Benefits
New outdoor spaces enhance your quality of life, connect you to nature and the outdoors, expand the living spaces of your home, make your home more beautiful, and increase property values.
Make your home a place of beauty and enjoyment with professionally designed outdoor spaces by JGL Design.
Places, Spaces, Structures, and Features in the Landscape
Outdoor Rooms
Courtyard, Pool House, Patio, Outdoor Kitchen, Pavilion, Motor Court and Parking, or Walkway

Decks and Porches
Deck as Outdoor Room, Three Seasons Room, Country Porch, Pool Decking, or Entry Porch

Water in the Landscape
Swimming Pool, Pond, Stream or Fountain

Structures and Features
Walls, Gateways, Fencing, Pergolas, Arbors, Garden Steps and Pathways, Fireplace and Firepit, Lighting, or Irrigation